Early hours of dawn on Sunday, a violent scuffle arose between 300 local residents of Quang Binh Province and underworld gangs and lumberjacks, when the latter two tried to rob valuable Sua wood from Xuan Trach Commune in Bo Trach District.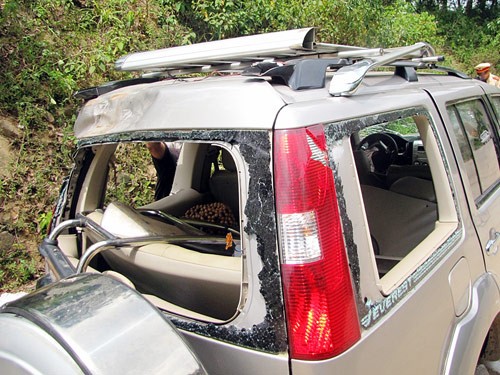 One car was damaged in the ensuing scuffle to prevent Sua trees from being stolen in Quang Binh Province (Photo: Thanh Nien)
Some porters were surrounded by over 300 local residents when they tried to carry away ten Sua tree trunks from Hung Lam forest in Xuan Trach Commune. The porters tried to dash up the mountain or hide in the forest to escape the wrath of the locals.
Joining in the scuffle and attempting to rob Sua trees were underworld gangs from Nghe An and Ha Tinh Provinces.
Over 300 residents including men and women, from Xuan Trach, Phuc Trach and Son Trach Communes of Bo Trach District, carrying sticks, cold steel rods and other arms fought with underworld gang members and lumberjacks to stop them from stealing Sua tree trunks.
In this violent frenzy, four motorcycles were completely destroyed. Along the road leading to the Hung Lam forest, lumberjacks piled up stones to throw at any one attempting to carry away a Sua tree trunk.
One car was damaged when stones were thrown at it, causing the driver to lose control. The car finally collided into the mountain and badly injured four people seated inside.
 
According to some sources, these four people had come to save the Sua trees from being stolen. They had mobilised another four automobiles carrying 30 people, who were their friends and relatives, to come to Hung Lam forest to save the trees. However, most of them did not attempt the daring move and backed out.
In the ensuing scuffle at least seven people were injured.
The Sua tree (Dalbergia tonkinensis Prain) has been listed as an endangered flora species in Vietnam and is on the international red list. Sua timber is rare and valuable, and as per local myth, can be used for spiritual purposes and treatment of some diseases in China.
In Vietnam, Sua is ranked a first-class timber, as it is hard wood, durable, easy to work with and resistant to insects.
Related article:
Quang Binh Province finds ways to protect National Park