Authorities in Tam Ky in Quang Nam Province, who had initially rejected a Sai Gon Giai Phong report last month that they did not fully distribute relief materials to victims of Typhoon Ketsana which hit the town last September, are now set to carry out a probe.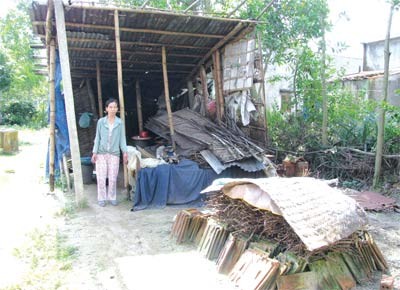 This house owned by Nguyen Tan Oai was completely destroyed by Typhoon Ketsana which hit Quang Nam Province last September. But local officials did not give him the entire relief amount allotted by the Government and the media reported about it, sparking off a probe (Photo: SGGP)
Pham Cong Thang, vice chairman of the Tam Ky city People's Committee, had said the report was "not accurate" and demanded a denial from SGGP and three other newspapers which reported the story.
                             
In a communication he had sent to the Quang Nam Province People's Committee, other official agencies, and the four newspapers, Mr. Thang said after the story was reported, the administration sent officials to Tam Phu Commune in the city to speak to victims.
 
According to the inspectors' report, some of the victims were not given the whole relief amount simply because their houses had not been completely destroyed as believed at first.
 
But correspondents from SGGP and other newspapers stood by their reports. They returned to the spot and found that the houses have indeed been destroyed completely and remain in that state.
 
Mr. Thang then changed his tune and told SGGP that since he had assumed office only a month ago, he was not fully conversant with the issue.
 
But after viewing videotapes of the collapsed houses shown to him by SGGP, he admitted that the commune authorities had failed to accurately estimate the damages so or provide relief properly.
 
The city would establish an inspection team that would visit the commune along with him to evaluate the damage and report it to official agencies and newspapers in January, he said.
 
If the newspapers' reports are found to be true, the officials involved would be penalized, he promised.