A tornado leveled village neighborhoods in central Vietnam April 19, with a total of 11 houses destroyed and 863 others left roofless, local authorities have reported.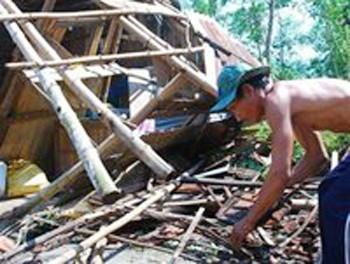 This man home in Que Loc Commune is knocked down by tornado raging the Nong Son District of Quang Nam Province on April 19 (Photo: thesaigontimes)
Two people were injured and over 170 hectares of rice and other crops were lost to the tornado and hailstorm that swept Quang Nam Province's Nong Son District.
According to the Nong Son District's Department of Agriculture and Rural Development, seven schools and a commune health clinic also lost their roofs.
The Nong Son District People's Committee said that electricity and communication systems in Que Loc, Que Trung and Son Vien communes had been knocked out and were not repaired as of the night of April 20.
That afternoon, Nong Son residents suffered at least a half-hour of strong whirlwinds.
The strong winds and rain, concentrated in Que Trung and Que Loc communes, uprooted several trees.
It is estimated that tornado and hailstorm caused material losses of VND9.9 billion (US$521,000) in Nong Son.
Quang Nam Province authorities have said they would provide VND5 million each to the owners of destroyed homes.
The owners of homes experiencing damages of 50 percent or more will receive VND2.5 million and those who own homes suffering less than 50 percent damage will be given VND1 million.
Injured persons would also be given VND1 million in cash support.
In more fortunate news, many localities in the parched Mekong Delta were drenched with heavy rains on April 20, quenching the thirst of rice paddies and vegetable and fruit fields in drought ever since the dry season arrived weeks early this year.
The rains have also helped restrict salt intrusion on canals and ease forest fire dangers, which had been exacerbated by the drought for several months.

Related article:
Tornado, hail storm ravage Quang Nam