The People's Committee of the central province of Quang Nam has sent a dispatch to Vietnam Electricity (EVN) to implement swift measures to repair the leaks in the main dam of the Song Tranh 2 Hydropower Plant Reservoir by August 30.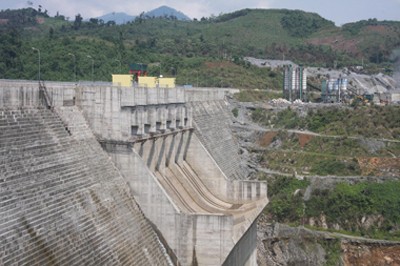 A view of Song Tranh 2 Hydropower Plant dam in Quang Nam Province (Photo: Chinhphu.vn)
In case the leaks are not repaired before the deadline date, then EVN should halt the flow of water into the plant's dam to ensure the safety of low-lying areas.
The committee also proposed to EVN, which is the plant's main investor, to work with the provincial Steering Committee for Flood and Storm Prevention on measures to ensure safety for the plant's dam during the storm season this year.
This is the second time the province authorities have asked EVN to repair the leaks.
In early April, Le Phuoc Thanh, chairman of the provincial People's Committee inspected the dam and said that if EVN does not remedy the leaks before the storm season this year, the province will propose to the Government to stop the dam from filling up.