Dinh Van Thu, deputy chairman of the People's Committee in Quang Nam Province on December 24 asked the Police Department to investigate and take strict action against a team of bodyguards for causing disorder in front of Dai Tan Ethanol Plant in Dai Loc District on December 20.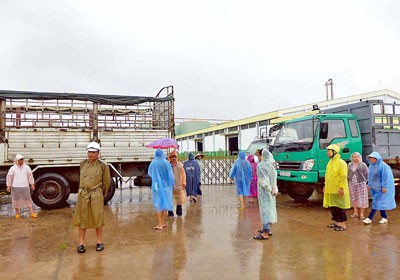 Quang Nam Province wants an investigation and strict action against a team of bodyguards who caused mayhem in front of Dai Tan Ethanol Plant on December 20 (Photo: SGGP)
On December 20, a team of bodyguards' gheraoed the plant's entrance with canes, electric batons and pepper spray cans. They blocked the road, demolished trucks and punctured tyres which were blocking the front entrance of the plant, with the intention of transporting out the ethanol at night.
Mr. Thu was speaking at a meeting with the Department of Planning and Investment and Dong Xanh Company, investor of the Dai Tan Ethanol Plant, on how to tackle the huge piled up debts of the company.
At the meeting, Mr. Thu asked Dong Xanh Company to coordinate with Vietnam Technological and Commercial Joint Stock Bank (Techcombank) in Da Nang City on the sale of ethanol products in the warehouse of the Dai Tan Plant. The sale must be carried out under supervision of local authorities to ensure benefit to relevant creditors.
The province wants the company to report on total investment capital of the plant and present measures to resume production and deal with a back log of debts.
The People's Committee of the Province will then report to the   Government to find measures to help resolve the present difficulties and resume operations, as this greatly affects the national energy development strategy.

Related article:
Senior managers of Ethanol Plant absconding, leave huge debts