The People's Committee in Bac Tra My District in the central province of Quang Nam will give financial support to residents to repair houses damaged from the recent spate of earthquakes in the vicinity of the Song Tranh 2 Plant.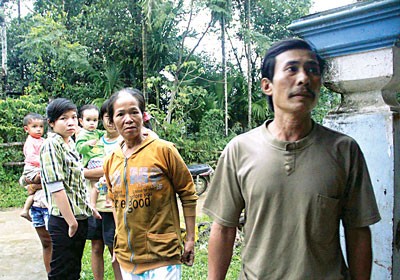 A powerful earthquake on November 15 in Bac Tra My District in Quang Nam Province sent local residents scurrying outdoors (Photo: SGGP)
On November 29, the People's Committee listed all the households in the area that had suffered serious damages from the recurring earthquakes.
The district authorities have so far received about VND3.7 billion (US$178) from Vietnam Electricity, investor of the Song Tranh 2 Plant, who was asked to compensate for damages caused by the recent quakes in the worst hit areas of Bac Tra My District.
 
Local authorities will disburse about VND2.5 billion ($120) to 856 households for damage to their homes and VND30 million for public construction.
Nearly VND1.2 billion will be allocated for repairing the water supply system and for road construction in resettlement areas.
 
A sum of VND300 million, provided by the Ministry of Construction and EVN, will be given to each individual in the area, with each person receiving VND100,000.
 
A powerful earthquake shook the area around the Song Tranh 2 Hydropower Plant in Quang Nam Province at 2.24pm on November 15, sending residents scurrying outdoors. The quake also affected some areas in the neighboring province of Quang Ngai and Da Nang City.
After the quake, local authorities informed that more than 400 households and six public construction works had been destroyed. Related agencies are verifying the damage costs so as to ask the investor of Song Tranh 2 Plant to compensate for the damages.
 
In related news, the Armed Forces based in Quang Nam Province will organize a dress rehearsal for dealing with earthquakes in Bac Tra My District. The army will run a mock drill on how to evacuate thousands of households from earthquake torn areas to safer locations.