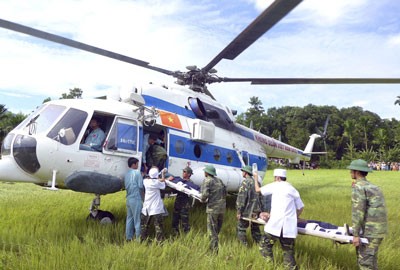 Rescue workers transferring victims to a helicopter during the drill (Photo: SGGP)
More than 1,500 soldiers and local people took part in a search and rescue drill on August 28 in the possible event of an earthquake, in Bac Tra My District in the central province of Quang Nam.
The Provincial People's Committee held the search and rescue drill for the very first time in the district. The drill rehearsal scenario was of an earthquake measuring 6.2 on the Richter Scale that has rattled houses in Bac Tra My District.
The quake, with its epicenter at latitude 15 degrees north and longitude 108 degree east, supposedly took place at the Song Tranh 2 Hydropower Plant.
Fifty people have said to have died in the quake, 120 people are injured, 30 are missing and tens of houses have been flattened. Shouts for help, groans of pain and hands on rescue work were all recorded during the drill.
The site of the drill drew large crowds of locals.