The People's Committee of Quang Nam Province on January 16 met with related departments to discuss emergency preparations in event of a dam breach scenario at Song Tranh 2 Hydropower Plant, which is constantly under threat from consecutive reservoir-educed earthquakes.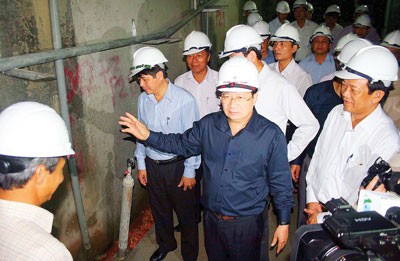 Trinh Dinh Dung (dark blue), Minister of Construction, inspects inside the Song Tranh 2 Hydropower Plant in Quang Nam Province (Photo: SGGP)
Accordingly, almost 62,662 residents from eight districts and cities in the lowlands will have to be evacuated on a war footing should the dam suddenly breach and burst 730 million cubic meters of waters.
Military units in the province will be the main rescue teams and other forces like the police, border army, medical workers and youth will also be mobilized for evacuation and rescue operations.
All kinds of vehicles will be mobilized to carry people from their houses to shelters in the periphery of about 0.5-4.5km.
Investor of the Song Tranh 2 Hydropower Plant will be responsible for sounding the alarm so that residents in affected areas can move immediately to safer places on their own.
Local authorities will ensure security and timely supply of food, fresh water and medicines to people in the shelters.
Tran Anh Tuan, deputy chairman of the People's Committee in Bac Tra My District, said that the five quake observation stations installed in the province are unable to forecast earthquakes. As a result, evacuation of residents will be very difficult.
The five observation stations have been placed in Tra Doc, Tra Bui, Tra Tan and Tra Giac Communes in Bac Tra My District and Tien Lanh Commune in Tien Phuoc District.
Bac Tra My District has five communes in need of evacuation if the dam does breach, but they are scattered in different directions. Thus authorized organs should install an alarm system to easily notify them of any incident, he said.
Other districts like Dai Loc, Dien Ban, Duy Xuyen and Hoi An proposed relevant organs prepare measures to tackle the aftermath of the dam breach.
The Prime Minister has also asked the Song Tranh 2 Hydropower Plant not to accumulate water in its reservoir and carefully estimate earthquakes there.
The PM also instructed relevant units to hire top consultants from Russia, Japan and India to survey and assess reservoir-induced quakes in the Song Tranh 2 Plant area.
He tasked the Ministry of Industry and Trade to instruct Vietnam Electricity, investor of the Song Tranh 2 Plant, to ensure safety of plant operations and protection of the lowlands.