Quang Ngai Province Police have concluded that the huge fire that gutted the Quang Ngai market and resulted in losses of over VND350 billion (US$16.7 million), was caused by an electric short circuit.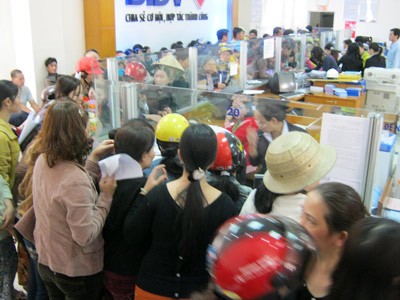 Victims of Quang Ngai market fire receive compensation money (Photo: SGGP)
Soon after the fire destroyed the market and put on hold businesses of thousands of traders, the Quang Ngai Province authorities asked the Agricultural Products and Foodstuff Company in the province to build a temporary market, for business to resume as soon as possible.
At a cost of VND9 billion, the temporary market is now complete and ready to adjust 1,800 traders to resume their businesses for the next 2-3 years from March 18.
The temporary market is located on Pham Van Dong Street, covering an area of 7,000 square metres with two 6,000 square metre courtyards and 1,000 square metres of land surrounding the market area.
According to the Vietnamese Fatherland Front Committee in Quang Ngai Province, several individuals as well as organisations have registered to provide more than VND12 billion ($572,000) to support traders affected by the market fire.
The People's Committee of Quang Ngai Province has donated VND10 billion ($476,000) from its budget to support traders in rebuilding their businesses and pay off debts.
Presently about 212 traders owe banks more than VND37.3 billion ($1.8 million).
Related article:
Fire guts entire market in Quang Ngai Province
Victims of Quang Ngai Market fire receive compensation