The 504 civilians killed in the 1968 Son My (My Lai as American troops called it) Massacre by American troops in the central province of Quang Ngai were remembered with an incense-lighting ceremony March 16.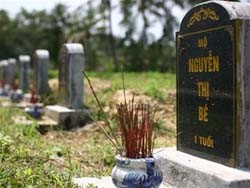 The grave of a one-year-old child, Nguyen Thi Be, who was killed in the Son My massacre by US troops on March 16, 1968. (Photo: Tuoi Tre)
Attending the ceremony organized by the Son My Historic Vestiges management, local authorities, and people living in Son Tinh District were four members of the Madison Quakers, an US organization established to help Agent Orange victims and the family of Shinovu from Japan's Yokohama University.
On the occasion, Mike Boehm, a US veteran handed over a housing area for the teachers and staff of the Son My elementary school. Mr Boehm and some other US veterans had raised VND1.3 billion ($76,000) to build the houses.
The site of the massacre is in Tu Cung hamlet, Tinh Khe Commune, Son Tinh District. It was built at the very spot where American troops butchered unarmed civilians on 16 March 1968.
They used machine guns and grenades and threw people into wells, most of them old people, women, and children, raising international outrage.