There are around 1,6 million domestic and foreign tourists in average to the revolutionary relics in Quang Tri province every year which has contributed VND 1,270 billion annually to the province budget, reported the province People's Committee yesterday.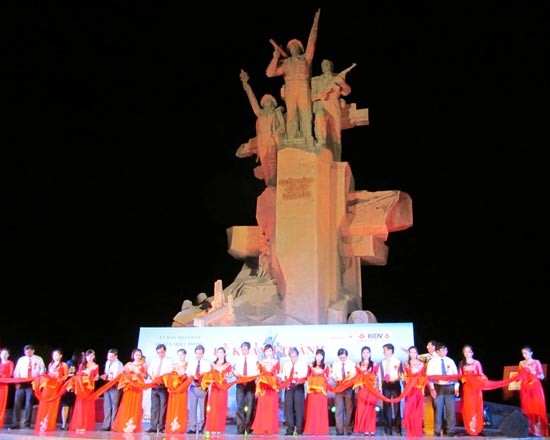 Leaders cut ribbon to inaugugrate construction of Cua Viet Victory Monument on July 17. (Photo:SGGP)
The increased  number of tourists year by year is due to a tourism program titled "Memory of former battlefields and comrades" kicked off 10 years ago.
 
Currently, Quang Tri is the most popular destination nationwide with 469 famous historical relic sites such as Hien Luong-Ben Hai River, the ancient citadel of Quang Tri and Vinh Moc tunnel and others.
 
The sum of money collected from tourism has been using for repairing, rebuilding and upgrading revolutionary relic sites.
The number of local and international visitors to Quang Tri province has increased sharply in recent years which would trigger a hitch for the province's tourism department in integration period.