The People's Committee in the central province of Quang Tri has asked the investor of Dakrong 3 Hydropower Plant, to clearly specify those responsible for the breach in the spillway channel at the Plant and take appropriate action.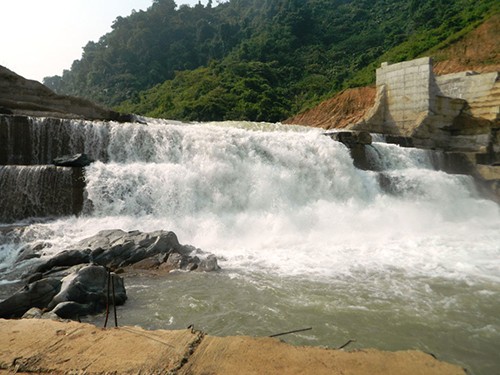 The breached section of the Dakrong 3 Hydropower Plant dam (Photo: NLD)
Truong Son Hydropower Company, the investor of the Dakrong 3 Hydropower Plant, should work with authorities in Dakrong District, Ta Long Commune and Dakrong Commune to determine and compensate damages to local residents, particularly those who lost their farm produce in the dam breach.
The company should also reach an agreement and persuade 13 households who have until now refused to evacuate from the plant reservoir area.
The Steering Committee for Flood and Storm Prevention in Quang Tri Province and Dakrong District should coordinate with the Truong Son Company to implement measures to ensure safety of the Dakrong 3 Plant reservoir, preventing it from any breach that will affect nearby residential areas.
The plant reservoir should temporarily stop accumulating water until it is safe enough to do so.
Related sides must immediately rush to implement the above instructions and report to the provincial People's Committee by October 30.

Related articles:
Contractor denies breach in Dakrong Hydropower Plant dam
Breach in hydropower plant dam in Quang Tri Province