The Ministry of Transport has issued Decision 977 giving approval of the Overall Planning of Rach Gia Airport in Kien Giang Province up to 2015 and the orientation up to 2025, according to the Kien Giang Province People's Committee.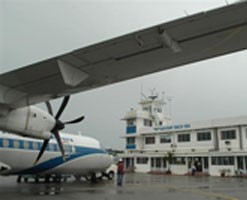 Rach Gia Airport

Under the decision, by 2015, Rach Gia Airport will be ranked 3C according to the standard of the International Civil Aviation Organization and Grade 2 as a military airport. The number of passengers may reach 200,000 a year, and 200 an hour at the highest.

By 2025, the airport will be upgraded to rank 4C. The number of passengers is expected to reach 300,000 a year then, and 300 an hour at peak hours.