Early birds have been very surprised to see heavy smog blanketing Ho Chi Minh City the past few mornings.

"It's dirt and smoke from too many motor vehicles," says Le Thi Xuan Lan from the Southern Bureau of Hydrometeorology.
She says traffic pollution is far worse now than a year ago.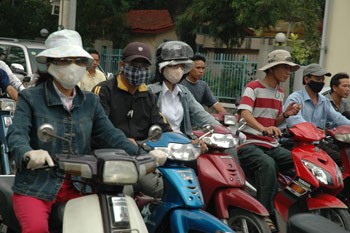 People should wear masks to protect themselves
The Environmental Protection Agency reports that the amount of lead in the air is more than twice as much as that twelve months ago, and the levels of benzene and toluene are also much higher.

Furthermore, airborne dust at the Hang Xanh, Phu Lam and Dinh Tien Hoang-Dien Bien Phu roundabouts exceeds the recommended safe level.

Ms. Lan says there are too many motor vehicles in Ho Chi Minh City. In fact, there are more than two million motorbikes and half a million cars, trucks and buses. Moreover, the humidity is always at its worst in April.

There are four scientific categories of fog: radiation fog, advection fog, valley fog and frontal fog. The smog poisoning Ho Chi Minh City these recent days is radiation fog.

People think fog is innocuous but it is in fact deadly. Radiation fog in Ho Chi Minh City is formed by exhaust emissions, dust and steam and can affect the human respiratory system.

Ms. Lan says everyone should wear a mask outside and adds that, long-term, "proactive scientific measures" are needed to reduce air pollution in the city.

As part of this approach, the Vietnam Register and the Ministry of Trade are proposing that a new, environment-friendly material be used from this year.