Radio Voice of Vietnam (VOV) held yesterday ceremonies in Hanoi to celebrate the 70th anniversary of its establishment (September 7th, 1945 – 2015) and received the First class Independence Order. On the same day Vietnam Television (VTV) celerated the 45th anniversary of its first broadcast.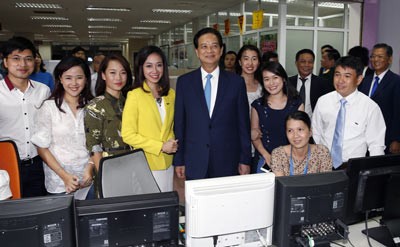 Prime Minister Nguyen Tan Dung visits S3 film studio of VTV. (Photo:SGGP)
Attending at the ceremonies were the General Secretary of the Communist Party of Vietnam Nguyen Phu Trong, former State President Le Duc Anh, National Assembly Vice Chairwoman Tong Thi Phong, Head of the Party Central Committee's Commission for Mass Mobilization Ha Thi Khiet, Deputy Prime Minister Vu Duc Dam and representatives of ministries, departments and agencies.
In the context of nation's great historical event of August Revolutionary, President Ho Chi Minh instructed for Radio Voice of Vietnam establishment 70 years ago.
Five days after establishing the Democratic Republic of Viet Nam, Radio Voice of Vietnam was officially broadcasted to mark its first appearance.
Until now, the agency targets multimedia development over four forms, including radio, television, print and e-newspapers and has broadcasted 600 hours with over 250 programs each day. Radio wave has covered more than 97, 4 percents of the country, a large part of the East Sea and the world.
VOV General Director Nguyen Dang Tien said that the agency has developed strongly in terms of quantity and quality.
Speaking at the ceremony, Deputy Prime Minister Vu Duc Dam appreciated outstanding achievements as well as efforts of director board, reporters, staffs and officials of Voice of Vietnam, and expressed his desire the agency will continue to prove further important role in future.
With great contributions over past 70 years, the Voice of Vietnam deserved the First and Third Class Independence Orders from State President.
On the occasion, Prime Minister Nguyen Tan Dung was on behalf of the Vietnamese Party and State to grant the First and Second Class Independence Orders to Vietnam Television's individuals and groups with their outstanding contributions.