A severe railway accident happened last night south of Chanh Hoa Bridge in Nam Trach Commune of Bo Trach District, Quang Binh Province, left 1 man dead and another injured after the Thong Nhat TN7 train crashed into a truck on the way from Ha Noi to Sai Gon.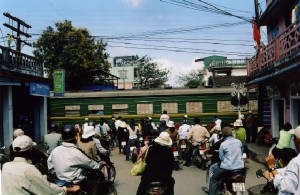 All passengers safely arrive at Saigon Railway Station
The driver of the truck, whose registered number is 73L-2728, which was carrying sand, died and his assistant was seriously injured in the accident.

The accident occurred when the driver of the truck carelessly crossed a railway crossing whilst the train was quickly approaching.

The accident caused severe delays on the railway lines that lasted until 11 o'clock this morning. The Railway Department had to use another train from Dong Hoi Station to tow the TN7 train back to Sai Gon.

All 540 passengers on-board the train were uninjured.

According to investigators, the truck was overused and should not have been on the roads, however, the Traffic Registry had still registered the vehicle.

In related news, yesterday the People's Committee of Tuyen Hoa District in Quang Binh Province reported that a boulder had fallen from a mountain in Le Son onto the North-South railway tracks below, causing severe delays.

The authorities came to the scene immediately, where nearly 5 hours were spent moving the boulder from the tracks. Fortunately, nobody was hurt in the incident.