The Ghenh Bridge's collapse in March has caused a preliminary damage of VND85 billion (US$3.8 million) to the railway industry and total damage to the economy is estimated to reach VND800 billion (US$35.85 million), reported the railway industry's trade union.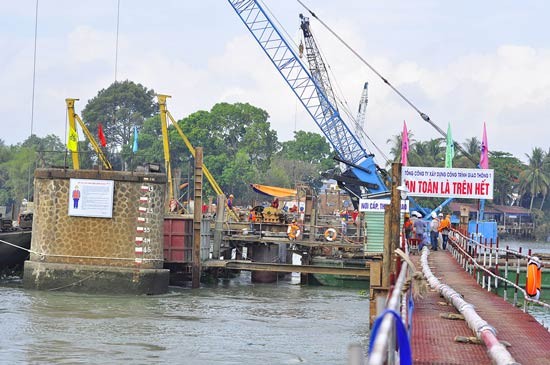 New Ghenh Bridge is under construction and expected to open for traffic by the end of next month (Photo: SGGP)
The union was reporting to Mr. Bui Van Cuong, chairman of the Vietnam General Confederation of Labor who inspected the construction site of a new railway bridge in Bien Hoa city, Dong Nai province and gave workers presents yesterday.
Mr. Cuong proposed execution units to ensure the work's progress & quality and labor safety hoping that it will be opened on June 30 as per schedule.
A sand barge collided into the bridge and collapsed it in March, disrupting the north south railway route's stretch from Bien Hoa to HCMC. Passengers have had to travel by bus between Bien Hoa and Saigon Stations.