Railway industry holds only one percent of Vietnam's transport market share despite of the industry's efforts to improve their services.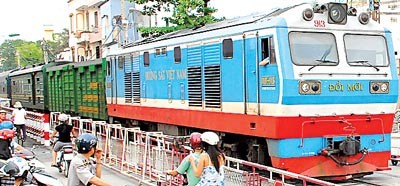 Railway industry holds only one percent of transport market share in Vietnam (Photo: SGGP)
Explaining for this, Deputy Chairman of HCMC Bridge and Road Association Ha Ngoc Truong said that the most important and decisive matter came from railway infrastructure.
The one-meter wide and 100 year old rail track has been downgraded with too many junctions and chinks making it noisy and shaking when trains run and move to bends.
The track length at many stations is just enough for a 13-14 coach train to accommodate, causing time-consuming for trains to turn their heads.
Total cost for improving and upgrading the railway infrastructure is about US$8-10 million a kilometer, which exceeds financial ability of all units under the railway industry.
They receive only VND2 trillion (US$91.76 million) for track maintenance works and new investment annually, said Mr. Truong.
The Ministry of Transport has called on economic sectors to invest in the railway infrastructure system. However, investors have seemed not to be interested in this field.