The incessant cold fronts causing unseasonable rains have had a bad influence on rice and flower production in the central region.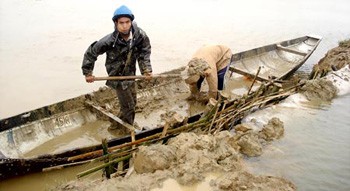 Farmers build dikes around their rice fields in order to reduce any further damage to their crops (Photo: SGGP)
It was only 10 degree Celsius on Wednesday when farmers tried to save their young rice crops from further damage, caused by floodwaters in Quang Tri Province.
According to Nguyen Quan Chinh, deputy chairperson of the province People's Committee, 1,500 of 7,000 hectares of winter-spring rice production is submerged under floodwaters in the Vinh Linh and Gio Linh districts.
Most of the inundated rice fields are in Trung Hai, Trung Son, Gio Phong, Gio My and Gio Thanh communes.
The provincial agricultural industry has help farmers release floodwaters from their fields and has recommended them to prepare rice seed, aiming to replant the damaged areas after the floodwaters recede.
In the neighboring province of Thua Thien-Hue, the cold weather has resulted in the death of 25 cattle in A Luoi District. However, it has been observed that some farmers leave their cattle unattended in freezing weather conditions and provide no shelter for the cattle.
Besides,  people in the province have hundreds of yellow apricot flower gardens, with over 400-500 plants in each plot. Most of them are in Phu Vang, Quang Dien Districts and Huong Thuy town.
In previous years, the plants began producing buds in the middle of lunar December and blossomed just before the Tet holiday. This year, they have flowered from the beginning of the month.
Nguyen Van Hai from the town of Huong Thuy said that the apricot plants have blossomed too soon, which has resulted in him losing money.
In the other flower-growing areas of Quang Tri and Thua Thien-Hue, they too have suffered from bad weather, resulting in the daisy and gladiolus flowers becoming disheveled and lifeless.