The Government rice stockpiling program began one week back to improve rice prices and consumption in the Mekong Delta, however, continuous rainfall has made this difficult.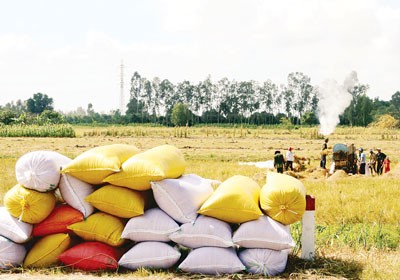 Several farmers were fortunate in harvesting rice before the rains in the Mekong Delta (Photo: SGGP)
Hai Thuc, a farmer in Long My District of Hau Giang Province, laments that rain has not abated for the last ten days. His rice fields have been flooded and combine harvesters are unable to function.
Thuc has mobilized all his relatives to manually harvest 6,000 square meters of standing rice crop as labor costs have rocketed from VND300,000 to VND800,000 per 1,000 square meters.
Hundreds of farmers in Dong Thap, An Giang and Long An Provinces and Can Tho City are also facing the same situation.
Flattened rice crops have also resulted in low grain quality, and hence lower rice price and lower demand, said Ut Nho, a farmer in Vi Thuy District in Ca Mau Province.
Several farmers in Hau Giang Province have sold fresh rice at a mere VND3,000 a kilogram, which is much lower than the cost price, said Nguyen Van Dong, director of the Department of Agriculture and Rural Development in Hau Giang Province.
Provinces under large rice growing areas like An Giang, Dong Thap, Long An, Kien Giang and An Giang have 20,000-30,000 hectares of rice still under floodwaters.
An official from the Vietnam Food Association said that businesses have purchased 70,000 tons already of the one million tons of rice targeted for stockpiling. However, purchase has slowed down in the last few days due to rains.
Truong Thanh Phong, Chairman of the Association, said farmers should sell their rice instead of waiting for 30 percent profit margin, particularly in this current situation.
According to the Ministry of Agriculture and Rural Development, rice output this year will top 43 million tons, of which eight million tons will be for consumption, not including 1.85 million tons in stocks from last year.
The volume of rice in need of consumption will be 3.57 million tons from now until the end of this year, which is a big challenge for the Vietnam Food Association as rice supply now exceeds global demand.