Residents in Kien Giang Province's Rach Gia City scrambled to find any kind of container in sight to help collect yesterday morning's rain.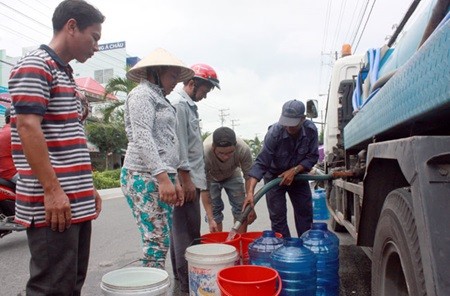 Residents of Kien Giang Province's Rach Gia City wait to collect potable water from a tanker. A serious water shortage has badly affected daily lives over the last several weeks. — VNA/VNS Photo Truong Giang
The pregnant clouds broke a weeks-long drought caused by saline intrusion, but they only offered a brief respite.
The Kien Giang Water Supply and Sewerage Limited Company (Kiwaco) – the main water supplier in the area – said it only had enough water to satisfy local hospitals and residents' daily use for a few days.
Kiwaco Director Nguyen Duc Hien said the main reservoir of the Rach Gia Water Plant has completely dried up. On Monday, Kiwaco had to use 14 water tank trucks to transport water from its 50,000cu.m standby reservoir to supply water to hospitals, schools and some residential areas.
"With the standby reservoir, Kiwaco can only satisfy basic daily water needs for important areas in Rach Gia City for just 10-15 days," said Hien.
Since the start of July, Kiwaco's fresh water supply had been cut off. The Rach Gia – Long Xuyen Canal, which supplies raw water to the company's reservoirs, recorded a high level of salinity.
The water levels in the area's rivers and canals are also lower than last year. With high tides, seawater moved further inland than usual.
Le Xuan Hien, deputy director of the province's Centre for Hydro-Meteorological Forecasting, said the salinity of water in the Rach Gia – Long Xuyen Canal has reached 0.7 per cent as of Sunday. Since 1990, the canal's July salinity readings had always been between 0.2-0.3 per cent. This year's number marks a drastic departure.
The weather forecast shows little chance of rain for the rest of this month, so the salinity of water in canals in Rach Gia City and Hon Dat, Tan Hiep, Kien Luong and Giang Thanh districts is expected to increase, Xuan Hien said.
At an urgent meeting on Monday, the deputy chairman of the provincial People's Committee, Mai Van Huynh, asked Kiwaco and other agencies to transport water from other places to the city by barge, fire-fighting vehicles and water tank trucks. He also urged households with bored wells to share water with their neighbours.
Huynh asked relevant bodies to conduct research on mixtures of saline water and reserved fresh water that could be safe for human health and monitor water prices.
"Our daily activities have become pretty difficult. Our family is able to get only a few buckets of water from mobile water tankers, enough for drinking and cooking. Taking a bath seems to be too luxurious at the moment," said local resident Duong Chi Thien.