As schedule, tonight at 21:30, Hoa Binh Hydropower Plant will open its floodgates to discharge water as heavy rains are occurring in the upper section of Da River.
Since the beginning of the month, the northern region has experienced several rains however it is forecast from now till end of the month, many rains will hit the region.
Scattered rains are predicted to come earlier than other years; Mr. Le Thanh Hai, deputy director of the National Center for Hydro Meteorological Forecasting said scattered rains, which often occur in the seventh month on the lunar calendar, come one month earlier than scheduled and the possibility of flash floods can also occur in this year.
Latest news issued by the center this morning, a low-pressure system that is operating in the Tokin Gulf, centered at 18 to 20 degrees north latitude and 106 to 108 degrees east longitude.
In the next two to three days, it will strengthen and may develop into a tropical low-pressure.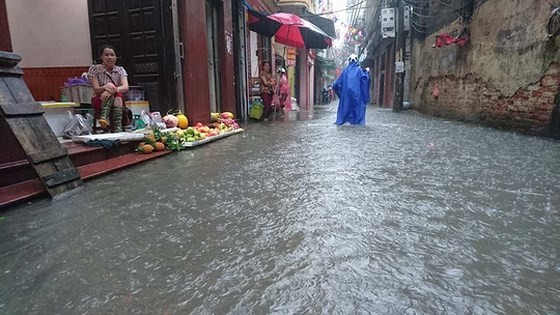 Rains predicted to hit the north in the next two to three days
With this, rains are hitting the north. The northern provinces of Hoa Binh, Yen Bai can suffer heavy rains with total rainfall of 20 to 40mm.
The center warned in the next 3 to 6 hours, flash floods may hit Tan Lac, Ky Son, Lac Son, Mai CHau, Lac Thuy districts (Hoa Binh province); Yen Binh, Luc Yen, Mu Cang Chai (Yen Bai).
The center predicted that rains would occur on a large-scale in Hanoi capital.
Bad temperature also hits the south as rains and heavy winds are covering over the region due to direct impacts of the southwest monsoon.
The central highlands and southern region continue suffering rains in the next 2 to 3 days.
Since the middle of May, the south has entered rainy season. Several parts of the coastal provinces of Kien Giang, Ca Mau, rains come earlier than others.
The rainy season is forecast to last till the middle of November.