The Southern Institute of Fruit Research reported that nine kinds of fruit, home to the Mekong Delta, are listed in a Ministry of Agriculture and Rural Development project aiming to increase the quality of Viet Nam's produce by 2010.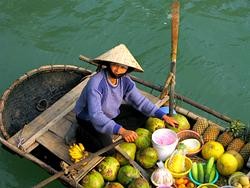 A farmer carries fruit to market
Four of these fruits come from Ben Tre Province, including Buoi da xanh (green skin pomelo), Mang cut (mangosteen), Sau rieng sua com vang hat lep (yellow pulp and small pip durian) and Cam sanh (king orange).

The remaining five, including Buoi Nam Roi, Sau rieng Ri.6, Vu sua Lo Ren (milkfruit), Xoai Cat Hoa Loc (mango) and Thanh Long (dragonfruit), come from Vinh Long and Tien Giang.

Currently 360,000 tons of the nine highlighted fruits grow in large areas of over 55,000 hectares in total, in the Mekong Delta per year.

The aim of the project is to increase this area by over 24,000 hectares by 2010, in order to reach an annual output of over 590,000 tons per year.