The World Health Organization (WHO) has stepped up its warning about a new enzyme called NDM-1, or the New Delhi metallo-beta-lactamose, that is resistant to the most powerful antibiotics.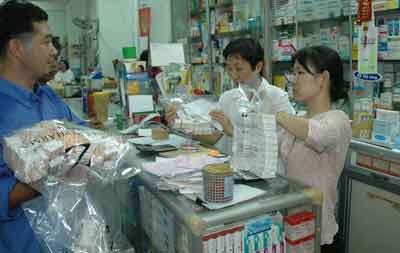 Vietnamese patients can easily buy and sell antibiotics without prescription. Widespread overuse of antibiotics is fueling an increase in antibiotic-resistant bacteria, which is very dangerous and difficult to treat (Photo: SGGP)
The warning is particularly pertinent to Vietnam where uncontrolled sale and unneeded use of antibiotics is rampant.
 
In fact, people in the Southeast Asian nation take ampicillin or amoxicillin from nearby pharmacies without prescription of medical workers for minor ailments like cough, sneezing fits or a runny nose.
Doctors have said it's important to remember that antibiotics, a class of drugs that treat bacterial infections by stopping growth of bacteria or killing the bacteria directly, are ineffective in treating infections causes by viruses, which include the majority of colds, sore throats, coughs, and flu-like illnesses.
However, antibiotics are also prescribed needlessly, some experts have said.
Antibiotic resistance due to severe abuse has reached an alarming rate in Vietnam, according to a recent survey conducted by the Oxford University Clinical Research Unit and the National Hospital of Tropical Diseases.
The survey, conducted at pharmacies and hospitals in Hanoi over a one-month period, found that patients in central hospitals spend 43 percent on antibiotics while their counterparts in district medical clinics or centers spend 28 percent.
The survey also pointed out that cases in which children are prescribed antibiotics needlessly are too frequent. The rate of antibiotics in prescriptions issued by doctors of state-owned hospitals was 31 percent, while it was 24 percent at private clinics. The percentage of parents taking antibiotics from nearby pharmacies without prescription accounted for 30 percent.
Uncontrolled use and abuse of antibiotics has caused severe resistance to the medicines in Vietnam. The survey also revealed that over 60 percent of people are resistant to medication that treats pneumonia; 45 percent were resistant to three antibiotics; and 15 percent to four varieties.
Dr. Nguyen Dang Hoa of the Hanoi-based Pharmacology University, said resistance to drug has also occurred to 13 new generation antibiotics in addition to old ones. Children are most affected by this drug abuse, he said.
The survey listed several reasons for the current situation. Some doctors prescribed the drug because their knowledge was limited or they were bribed by pharmaceutical companies. People with diseases preferred to use antibiotics directly because they could avoid paying examination fees. Most of all, pharmacies are willing to sell the drugs without prescription for profit.
After scientists warned that the spreading of the new enzyme could make all bacteria resistant to almost all antibiotics, WHO has called on all nations to control transmission, fight against the misuse of antibiotics, monitor resistance, and curb infection.