Coral along the sea coasts is a precious natural resource which is being dug and quarried, causing serious environmental damage to land and the inhabitants of the coastal areas.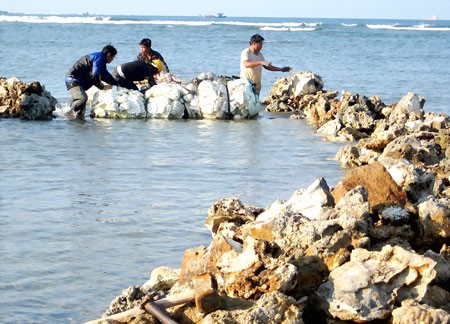 Exploiting coral along the sea coast in central province of Quang Ngai
Coral exploitation has been rampant in Quang Ngai province for many years. Local people and concerned authorities have caught a number of trucks carrying coral to sell in a lucrative market. However, as the value of coral continues to increase, so do the number of poachers.
Coral is cut into small clots and sold to gardeners. Each clot is worth about VND1 million. A poacher can earn an average of VND400.000 – 500.000 a day. This lucrative earning is the reason behind coral exploitation.
Excessive and illegal coral quarrying has caused serious environmental damage to the Quang Ngai coast which is resulting in land erosion leading to floods during high tide.
In 2009, 9 cyclonic storms caused the tide waters to erode areas whereby 25 households were compelled to relocate to another place. In November 2010, the flood waters swept away 17 homes in just one night. After the 2011 Lunar New Year, the tide waters entered 10-30 meters into the Binh Hai commune submerging 10 households, who have yet to be allocated elsewhere by commune authorities.
It is estimated that about 50 cubic meters of coral has been exploited and taken ashore to sell to traders. This over exploitation has also led to the decrease of fish and shrimps in the sea. Mr. Vo Van Phan, an inhabitant in Binh Son commune pointed towards the sea and said, "In the past, the mainland area was larger as the coral reef was protected. However, with the coral area exposed to erosion, the sea has washed away soil to make the mainland much smaller. The authorities must now find solutions to resolve this problem urgently."
Mr. Nguyen Van Thien, chairman of the Binh Hai commune's Peoples Committee, admitted that authorities had not enforced any strict rules to prevent this damage. The locals have now intensified their campaign to ask local truck owners to sign a commitment not to participate in the transportation of coral.
While the Binh Hai commune authorities remain lackadaisical in bringing about any preventive measures to stop the illegal exploitation of this precious natural resource, the valuable sea ecosystem continues to be destroyed by tide waters leading to more loss of mainland areas. Inhabitants of Quang Ngai can but wait helplessly for authorities to take action.