Smugglers are flourishing along the southwest border of Vietnam, blatantly bringing in commodities like sugar, cigarettes and wine into the country via Cambodia, to rake in profits during the Tet Lunar New Year.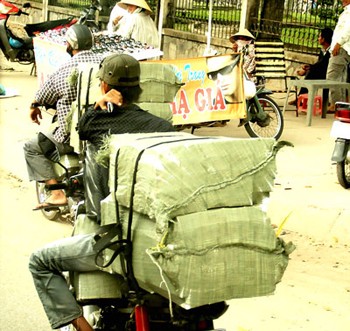 Contraband cigarettes being transported to HCMC markets (Photo: SGGP)
Rampant smuggling over the last few days of illegal contraband goods have been flooding the city markets, most popular items being wine and cigarettes. Smugglers are going unchecked through border gates in Long An, Dong Thap, An Giang and Kien Giang Provinces.
Smuggling operations are swift and well organised, as within just 30 minutes, tens of motor boats carrying illicit cigarette packages land at the Ba Duc Wharf in Duc Hoa District of Long An Province.

There several youth are ready and waiting with motorcycles to transport the goods to Ho Chi Minh City markets. Local people say that all this smuggling activity is open knowledge and done publicly in broad daylight.
Similarly, along Man Trau Canal in Chau Doc town of An Giang Province boats transport refined sugar and cigarettes smuggled in from Cambodia into Vietnam.
The Man Trau Canal is the main waterway route to transport contraband goods from Cambodia into An Giang Province, where tens of warehouses in Vinh Nguon Commune in Chau Doc town stock the contraband goods. Several local people here are dependent on smuggling racketeering as a means of livelihood.
Border communes in An Phu District and Chau Doc town in An Giang Province are flooded with Thai refined sugar, illegally smuggled in via Cambodia.
Petrol too is being sold in huge volumes across the Cambodian-Vietnam border at VND26,000-27,000 per litre in Tinh Bien and Ha Tien International Border Gates in An Giang and Kien Giang Provinces. Smugglers are happily raking in a profitable VND5,000-6,000 per litre.
Anti-smuggling forces in An Giang Province have uncovered and dealt with 2,174 contraband cases in 2011, an increase of 23 percent over the previous year.
Total fines issued were VND14 billion, not including 850,000 cigarettes packs worth VND8 billion that were confiscated.
According to provincial authorities along the southwest border, each year they seize smuggled goods worth tens of billions of dong, a miniscule amount compared to the total volume.
Vo Thien Ngo, head of the Market Management Department in Long An Province, expenses provided from the State budget for anti-smuggling operations are insufficient. There is also a lack of trained human resource and facilities to nab smugglers.