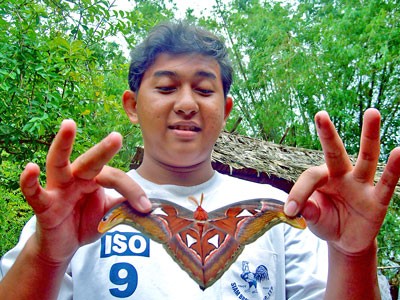 Son Duc Hung, 17, holding the rare butterfly (Photo: SGGP)
A local resident in the Mekong Delta province of Soc Trang   discovered a rare butterfly, which he later released into the wild.
On the morning of December 24, Nguyen Van Son said he found a strange looking butterfly which was still alive so he decided not to catch it but release it into the wild.
Earlier, a 17-year-old boy named Son Duc Hung from Tho Hoa Dong Village in Phu Tam Commune of Chau Thanh District in Soc Trang Province found a similar looking butterfly perched on a branch of an apricot tree.
The creature had a colorful body and its wingspan measured 18cm.
According to the Vietnam Red Book, this butterfly species has a scientific name Attacus Atlas and is ranked at level R, which means 'Rare' and on verge of extinction.