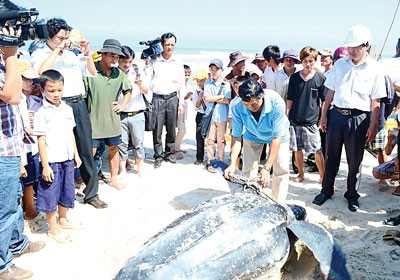 The endangered sea turtle found in sea in the central province of Quang Binh (Photo: SGGP)
A rather large rare and endangered sea turtle has been released back into the wild in the central province of Quang Binh, said Pham Huu Thao, deputy chairman of Le Thuy District on November 10.
Thao said that while fishing about 500 meters from the coast, fisherman Ngo Minh Hoa discovered a very big sea turtle that had got caught in his fishing net.
The huge size of the turtle ripped the   fishing net to shreds and Hoa had to ask two other people to help untangle the turtle out of the net. He then informed the local authorities of his unusual find.
The sea turtle has a scientific name of Eretmochelysimbricatta and is a rare and endangered species. The turtle was estimated to weigh 400 kilograms and was very old. Authorities have now released it back into the wild.