A rare breed of fish has been found in a previously unknown stream, which runs into the Ma River in Cam Thuy District, Thanh Hoa Province.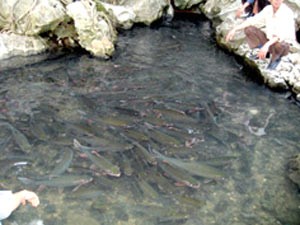 The rare fish are found in Thanh Hoa Province's Cam Thuy District
The stream has hundreds of the fish, each weighing four to five kilograms.

The fish has a body like carp, which is round and fat in the middle and has pink lips. Its scales are like carp, its back has a dark color and its fin and tail has red dots.

Muong ethnic people in Cam Lien Commune, who found the fish, have named the breed "phốôc."

Local people consider it a natural treasure so they have protected it and helped the fish grow.

A similar breed of fish was discovered a few years ago in another stream in Cam Thuy District.