A fisherman in Khanh An Commune of An Phu District in An Giang Province in the Mekong Delta caught a rare 86 kilogram freshwater catfish (Pangasianodon Gigas species) in the Cay Kim gulf of the province on July 21.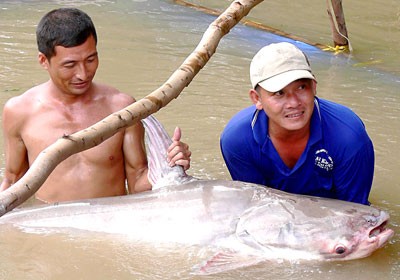 A rare 86 kilogram freshwater catfish was caught in An Giang Province. (Photo: Sggp)
The fisherman who caught the catfish sold it to Huynh Thanh Hong, head of the Police Department in Quoc Thai Ward for VND15,850,000. Hong then informed the An Giang Department of Fishery of this rare fish species.
According to the Department of Fishery, this very rare giant catfish species is currently under threat of extinction and is listed in Vietnam's Red Book and the WWF Red List. Releasing the rare catfish back into its natural environment was thus very important.

Another fisherman in An Giang Province had earlier on July 7 also caught a rare 72 kilogram freshwater catfish in the Cay Kim gulf.  According to local people, the river section has a depth of about 20 meters where one can encounter some giant fish.