Ghenh Bridge, that has collapsed in a barge collide, will be rebuilt on April 1 and the project is expected to complete on July 15 at a total capital of VND298.5 billion (US$13.38 million).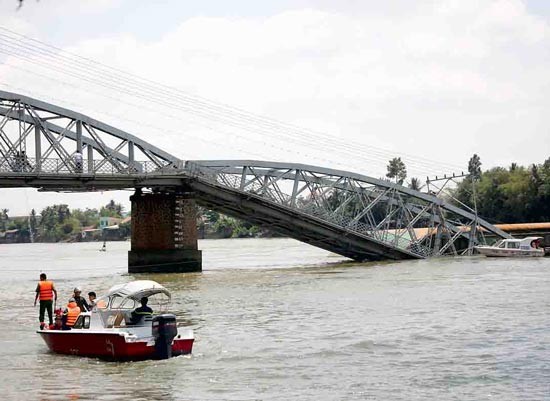 Ghenh Bridge has collapsed into Dong Nai river, disrupting the North South Railway's stretch from Dong Nai to HCMC (Photo: SGGP)
That was reported at a meeting chaired by deputy Minister of Transport Nguyen Ngoc Dong and attended by leaders of Dong Nai province, Ho Chi Minh City, company Vietnam Railways and the Inland Waterways Administration yesterday.
 
According to reports, Ghenh Bridge will be salvaged out from Dong Nai river on March 30 instead of April 2 as scheduled.
 
Deputy Minister Nguyen Ngoc Dong asked Vietnam Railways to keep updating train schedule on the media.
 
He also asked the Dong Nai province People's Committee to closely work with related sites to ensure waterway and road traffic to assist the interrupted railway transport, hand over the site for new bridge construction and remove the electricity system.