Record high flooding in the Mekong Delta has killed 18 people so far, according to the Central Steering Committee for Flood and Storm Prevention on Thursday.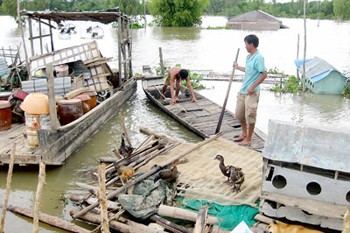 People moving belongings from flood ravaged homes in Tam Nong District of Dong Thap Province (Photo: SGGP)
Floods have inundated nearly 30,600 houses and caused complete devastation to over 6,000 hectares of rice crops in An Giang and Dong Thap Provinces and in Can Tho City.
In addition, 1,400 hectares of vegetables and about 1,400 hectares of aqua-farming have submerged under floodwaters.
Such severe flooding has raised public concern and questions as to the role of authorized organizations including the National Hydro Meteorological Forecasting Center in forecasting flood conditions.
In response, Bui Minh Tang, the center's director said on Thursday that his center had acted well in time to warn of flooding in the Mekong Delta.
The center coordinated with the Southern Regional Hydro Meteorological Center and other forecasting centers in provinces to monitor very closely the flood levels of the Mekong River and issue appropriate warnings, he said.
All forecast and warning bulletins were conveyed immediately to management organizations at all local levels and media organizations.
However, Mr. Tang confessed his handicap at covering the entire Mekong River valley which was too vast for the center to cover and broadcast forecasts five days in advance. Moreover, forecasting beyond a five day period was more of a reference, rather than an accurate reading.