Vietnam Red Cross plans to launch a month of action to help dioxin victims nationwide to raise VND98 billion and mobilize support domestically and abroad for Agent Orange dioxin victims, said Doan Van Thai, deputy Chairman and General Secretary of VRC, August 3.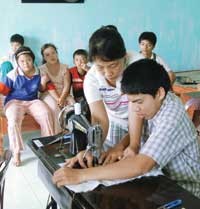 AO/dioxin victims are given training in needlework in the central province of Da Nang.
Speaking at a conference, Mr. Thai said the Vietnam Red Cross and the association at all levels nationwide will organize activities to help AO victims, such as providing surgery and orthopedic activities, health assistance, job training and financial support.
The month long campaign will be held from August 10 to September 10, starting on the Day for AO/Dioxin Victims, August 10.
In related news, to commemorate August 10, Vietnam TV will work with the Vietnam Association for Victims of AO/Dioxin and organize a special program. The program will be broadcast on VTV4 from 12am to 12pm on August 10.
The program will include news, movies, a documentary, music and a seminar about AO/Dioxin victims.
The "Orange Day" program's goal is to heighten public awareness of AO/Dioxin issues in Vietnam, as well as call for support from domestic and international people to build 55 convalescent homes, 550 houses of thanks, 1,100 scholarships and 1,100 jobs for AO/Dioxin victims.