Blood donation day, part of the Red Journey 2015 took place at National Convention Center in Ha Noi on July 25. On this occasion, the Red Journey 2015 blood donation campagin was concluded.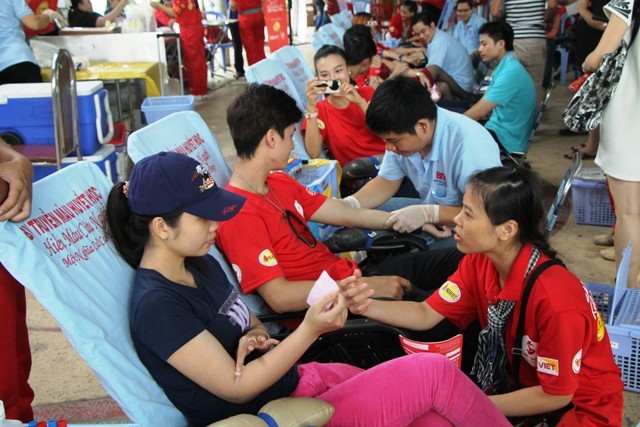 Volunteers join to donate blood during the red journey 2014 -Photo: BDCS
It targets to receive 2,000 units of blood (250ml each) from donors as if the event launched many activities. And "I love Vietnam" program drew over 3,000 volunteers and donors.
The Red Journey 2015 toured to 21 localities and cooperated with local authorities to mobilize a transnational campaign to raise awareness about donating blood. The organization board organized 21 galas, 3 talks and collected 17,937 blood units.
It is expected to receive 20,000 blood units after July 25. Especialy, the Red Journey 2015 visited Ly Son Island District of the central province of Quang Ngai and supported to build "Blood bank", aiming to supply blood source to serve health sector in the island district.
The Red Journey 2015 was introduced in Ho Chi Minh City on July 3 by the National Institute of Haematology and Blood Transfusion.