A government stimulus package intended to provide Vietnamese farmers with badly needed loans at 4 per cent interest but it seemed to appear some difficulties in implementing the policy.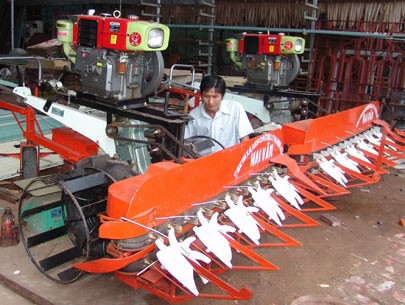 A farmer in the Mekong delta province of An Giang gets to know about some farming machines (Photo: Tuoi tre)
The stimulus package, announced in April, provides farmers with subsidized loans from commercial banks for buying fertilizer, pesticides and construction materials. Farmers are eligible for no-interest 12-month loans or 24-month loans at 4 per cent interest.
Some farmers are not clear or told about the policy meanwhile other failed access the loans due to red tape.
In order to get loans from banks, farmers must complete complex paper formality. In addition, some banks answered to be out of capital.
Moreover, farmers are forced to buy listed machines which can't meet production demands or they had to promise to buy only Vietnamese-made farming supplies with the loans while these Vietnamese-made devices are not on sale.
Mr. Nguyen Viet Hung, Deputy Marketing Manager of Vietnam Engine and Agricultural Machinery Corporation, said the policy has some vague points that the loan is separated from other lending; subsequently, farmers in somewhere couldn't access to the loan because they have asked for another before.
Meantime, Mr. Nguyen Huu Tung, director of Mechanics Enterprise CCB-502 complained farmers are required to present VAT receipts to receive money from banks while farmers are habitual to buy retail shops which don't provide receipt.
Furthermore, some non-state-owned banks refused to provide loan to farmers due to fears for high risk while joint-venture, foreign-run and financial companies have not supplied any to farmers.
Under the regulation, only four next months ends the disbursement policy while process is quite slow. Accordingly, farmers, banks and enterprises to produce machine proposed the government to expand the time until December 31. Apart from that, the state-owned Vietnam Bank Agriculture and Rural Development sought financial assistance from the Ministry of Agriculture and Rural Development to carry out the policy.
The ministry petitioned the government to reduce interest to 0 per cent and export-import tax for machines to serve for agricultural production to help farmer more.

Related article:
Farmers can buy machinery thank to stimulus package