The 22nd conference of the Law Association for Asia and the Pacific (LAWASIA) opened in Ho Chi Minh City on Nov. 9, with the participation of around 480 delegates both at home and abroad.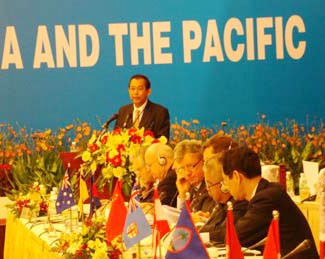 Vietnamese Chief Justice Truong Hoa Binh dilivers speech at the opening ceremony of the conference held in Ho Chi Minh City on Nov. 9, 2009
During the course of three days, the participants will discuss a wide range of issues, such as laws on the protection of personal information, family law, immigration law and judicial procedures.
They will also touch upon laws related to the environment, labour, insurance, and energy as well as franchising, corporate crime, trade disputes, intellectual property, and the role of lawyers' associations.
Hosted by the HCM City Bar Association, the conference is the largest ever of its kind held in Vietnam. It serves as a chance for lawyers to share professional experience and boost cooperation among regional countries and territories.
Established in 1966, LAWASIA brings together under one roof lawyers, jurists, lawyers' associations and related organisations. It currently has more than 1,500 members from 50 Asian and Asia-Pacific countries and territories.