The regional minimum wage in 2016 will be raised by 12.4 percent as approved at the third meeting of the National Salary Council on September 3.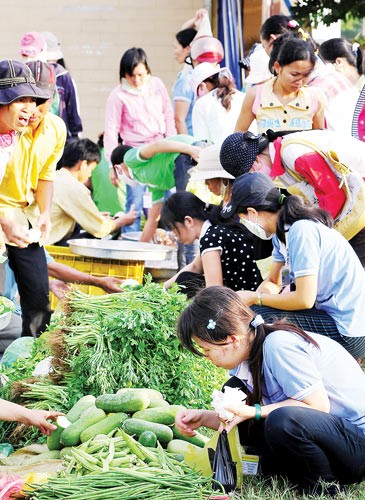 Minimum wage to increase 12.4 percent in 2016. Workers buy vegetables at a market in HCMC (Photo: SGGP)
The increase level for Region 1 is VND 400,000 (US$17.8) while the respective figures for Region 2, 3 and 4 are VND 350,000 ($15.6), VND 300,000 ($13.3), and VND 250,000 ($11.1). The expected minimum wages will be VND 3.5 million ($155.6), VND 3.1 million ($136.4), VND 2.7 million ($118.8), and VND 2.4 million ($105.6), respectively.
Regionally-based monthly minimum wages vary in four different regions based on four separate benchmarks determined by living standards in each area.
Region 1 covers urban Hanoi and HCM City; Region 2 covers rural Hanoi and HCM City along with urban Can Tho, Da Nang and Hai Phong cities; Region 3 applies to provincial cities and the districts of Bac Ninh, Bac Giang, Hai Duong, and Vinh Phuc provinces; and Region 4 encompasses the remaining localities.
Chairman of the Council Pham Minh Huan – who is also the Deputy Minister of Labour, Invalids and Social Affairs – said 92.4 percent of the meeting participants agreed on the 12.4 percent hike.
The first two meetings of the council in August failed to reach consensus on the wage augmentation due to disagreements between the Vietnam General Confederation of Labour (VGCL), which represents employees, and the Vietnam Chamber of Commerce and Industry (VCCI) – the representative of employers.
VGCL Vice President Mai Duc Chinh said the approved gap of VND 50,000 ($2.2) in the pay increase among the regions is the same as that in 2015 and would help workers share the expense burden with their employers.
Companies are not expected to be affected much by the hike, as most in Hanoi, Ho Chi Minh City and Binh Duong province pay their employees VND 5.5 million – 6 million ($244.5 – 266.8) per month, 1.5 times higher than Region 1's current minimum salary (VND 3.1 million).
Earlier, the confederation revised its proposed minimum wage rise down from 16.8 percent to 14.3 percent, equivalent to VND 350,000 – 400,000.
Meanwhile, VCCI Vice President Hoang Quang Phong expressed dissatisfaction with the approved level, elaborating that businesses are facing an array of difficulties and such a hike exceeds payment capacities of many of them.
The chamber proposed a minimum pay increase of 10.7 percent after considering the suggested level of between 5 and 10 percent by most of the 16 surveyed business associations, including 14 foreign ones, he noted.
The agreed 12.4 percent hike will be submitted to the Prime Minister for approval.

Related articles:
Garment, textile worries about high minimum wage increase
Minimum wage increase might shock businesses, expert