Mekong Delta provincial authorities have dispatched relief aid such as rice, medicines and cash to people stranded in badly affected flooded areas of the region.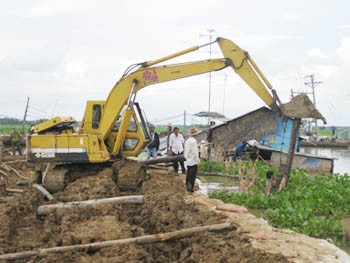 A dyke section being reinforced to protect the rice fields in Dong Thap Province (Photo: SGGP)
The People's Committee in An Giang Province has reserved VND8 billion (US$381,000) to provide food to those facing severe food shortage in flooded areas. The poor households, who are rendered homeless or have suffered severe losses, will receive 15 kilograms of rice per person per month for the next three months.
11,000 households have lost their homes and are in dire need of food supplies while 6,000 households need a means to earn a living during the flood season in An Giang Province.
The Vietnam Fatherland Front Committee in An Giang has so far mobilized over VND500 million ($24,000), from hundreds of donors to assist flood hit areas.
Meanwhile Kien Giang Province has given VND3-3.5 million to each family that suffered the loss of a family member, VND1 million to those who had to relocate and 15 kilograms of rice to each disadvantaged person.
The Central Steering Committee for Flood and Storm Prevention reported that by Monday, floods had claimed 24 lives with 21 being children and injured six people in the Mekong Delta.
57,540 houses have so far been flooded, 7,000 hectares of rice crops and 2,000 hectares of aqua farming has been totally devastated, while hundreds of kilometers of road way completely destroyed.
The total financial loss caused by flooding is estimated at VND950 billion ($45 million) in the entire Mekong Delta region.
According to the National Hydro Meteorological Forecasting Center, a new cold front is expected to slam into Vietnam by October 13 or 14, bringing in colder temperatures and more rainy weather to the northern and central regions.
Meanwhile, the central provinces continue to see medium to heavy rainfall caused by the low pressure in the East Sea, resulting in more swollen rivers in the area.