Tremendous relief efforts are being made to help the inhabitants of northern Viet Nam recover from the massive losses caused by the recent cold spell.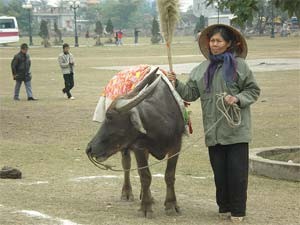 Cattle are given clothes to keep warm during the cold spell (Photo:K.Hong)
Ha Noi Moi newspaper and the Mai Linh Corporation have been raising cash and kind since last Tuesday through a campaign called "Bringing Fire to Rural Areas" to ease the sufferings in 16 northern mountainous provinces where the cold weather has taken the heaviest toll on crops and livestock.

To date the campaign has collected VND5 billion (US$312,500), livestock and 20 tons of clothing and other goods, of which VND4.5 billion (US$281,250) and 1,000 jackets came from Mai Linh itself.

On Wednesday, the campaign's first group of relief workers arrived in Tuyen Quang and handed over 80 bulls worth VND360 million (US$22,500) to farmers in the highland province.

The farmers have been helping each other out too, providing cattle, seeds and other useful things.

Another type of relief has been imported in the form of a new rice-cultivation technique. Its benefit was seen in Ha Giang province's Vi Xuyen and Bac Quang Districts on Saturday, when 100 tons of rice was ready to pick only 20 days after planting.

In Bac Giang northeast of Ha Noi, rice farmers have been replanting their devastated paddy fields with fresh seedlings donated to them, and specialists have been dispatched to the province to help the farmers complete their sowing by March 10, according to the Bac Giang Department of Agriculture and Rural Development.

The record long cold spell has killed more than 8,500 cattle in Bac Kan and Tuyen Quang provinces and brought farming almost to a standstill across the region.

Billions of Vietnamese dong has been lost as a result of crop failure and livestock deaths as the farmers did not know how to protect their cattle and crops against the bitter cold.