The freedom of religion and belief is respected and ensured by laws in Vietnam and numerous religious organizations have been recognized in the country.
National Assembly Deputy Chairwoman Tong Thi Phong made the statement while hosting officials from US religion organizations in Hanoi on May 27.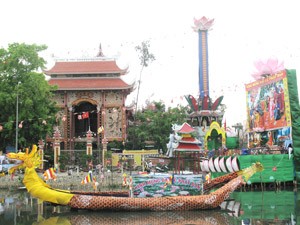 A pagoda in Ho Chi Minh City seen during Buddha's birthday, the 15th day of the fourth lunar month, which falls on May 28 this year (Photo: Van Minh)
At the meeting, Ms. Phong expressed her pleasure at the delegation's visit which coincides with the 15th anniversary of diplomatic ties between the two countries.
She thanked the American people for helping Vietnamese Agent Orange victims and told the delegation that among more than four million Vietnamese people who had been exposed to AO/dioxin, about three million were suffering health problems related to the exposure.
AO/dioxin has affected seriously people and the environment in Vietnam and it takes long time to overcome their consequences, said Ms. Phong.
She added she hoped the guests would retell American people and politicians the current situation in Vietnam when they come back home and become bridges of friendship and cooperation between the two peoples.
For his part, Bob Edgar, President and CEO of the Common Cause Interfaith, who led the delegation, pledged that he and other delegation members would help American people and politicians know more about Vietnam and the AO issue in the country.
He said he hoped the two sides would continue working closely together to settle the issue.