"We have to rely on the assistance of our citizens to prevent drug abuse", Vice-Minister of Public Security, Le The Tiem , said at a conference on the prevention of AIDs, drugs and prostitution that took place in Ha Noi January 26 to 27.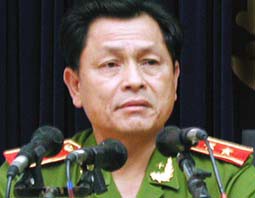 Vice-Minister of Public Security Le The Tiem.
Participants at the meeting were told that drug abuse in Viet Nam is a complicated situation. Young people generally begin using narcotics purely on a social level but often wind up getting involved in the prostitution industry with the end effect that the number of Aids/HIV victims increases. In 2006, authorities dealt with a total of 10,783 drug related cases, arresting 16,686 suspects and seizing some 276 kg of heroin (twice the amount in 2005), 645 kg of marijuana and 167,138 synthetic pills.
At the end of 2005, there had been 159,000 drug addicts. That number rose slightly to 160,226 in 2006 with 70% of the total being between the ages of 18 and 35 years old. According to Mr. Le The Tiem, drug dealers usually target young people who are susceptible due to their natural curiosity. The Vice Minister said there should be more campaigns aimed at young people publicizing the potential consequences of drug use.
Drug offenders are extremely dangerous. When apprehended, they often fight back with guns or explosive devices. In other cases, they have been known to bribe narcotics officers or even attempt to spread HIV to them by puncturing them with a needle that they have used on themselves.
In some extreme cases, they have even tried to commit suicide in order to block investigations.
To prevent narcotics officers from falling prey to temptation, those who take bribes will never be forgiven by the law. They will be taken to court, punished and dismissed from security forces.
Recently, drug and social evils prevention programs have been relatively successful thanks to efforts by the Government but even more importantly by the assistance of citizens. A great number of cases were discovered by local people. If these citizens failed to act, it would be very difficult to prevent drug crimes.