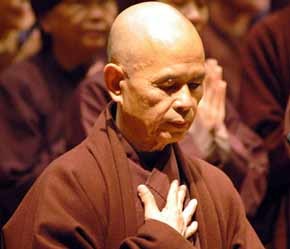 Zen Master Thich Nhat Hanh (Photo: www.plumvillage.org)
Zen Master Thich Nhat Hanh and his delegation from Mai (Plum) village, France, have arrived in Viet Nam for the grand celebrations of the United Nations Day of Vesak set for May 13-17 in Ha Noi.
During his stay in Hanoi, the world renowned Zen Master and his delegation plan to hold talks on Buddhism and open a seven-day meditation course for foreigners in the capital before attending the U.N. Day of Vesak celebrations.
The delegation is scheduled to leave Viet Nam for France in late June.