One year after establishing a fund for employment and resettlement to support farming households who had lost their land to industrial projects, some district administrations in the city are faced with a shortage of capital for fresh loans.
The shortage is being blamed on the farmers who have delayed repayment of their loans.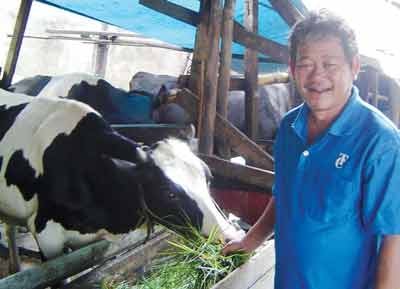 Le Van Treo feeds his milch cows
Disbursements from the fund totaled VND54.6 billion (US$ 3,314,000), helping over 8,000 people rebuild their lives, according to the Hunger and Poverty Alleviation Management Board.

Le Van Treo's family in District 12's Tan Thoi Nhat Ward used to farm and raise livestock for a living. However, since his 6,000 square meter field was taken back by the government, his family had to survive on just six milch cows.
He decided to ask for a loan of VND30million (US$1,821) from the fund to buy some more milch cows and cattle for meat.
Now he earns VND2.5 million a month from selling milk. Moreover, the eight cows being raised for beef will go for VND10 million (US$ 607) each at the end of year, tripling the capital.
Similarly, Doan Minh Vuong in District 9's Long Binh Ward was having a difficult time making a living after all his land was taken away. He joined the fund and borrowed the first loan of VND20 million (about US$1,214) to stock more items in the small store at his house.
His family's economy has improved tremendously since, and he has been able to save some money and buy needed household items.
Tran Van Yem is able to employ six workers at his iron casting workshop after borrowing capital from the resettlement fund.
However, the flip side of the coin is that farmers who have borrowed from the fund are afraid that they cannot access it again if they return it. They are prepared to pay interest on overdue debts because it is lower than bank interest.
700 households in District 2, where over 300 industrial projects have been carried out, have borrowed nearly VND11 billion(US$668,000) from the fund. However most have not returned it, and other farmers needing loans are left wanting.
The head of the district's Labor, Invalids and Social Affairs department, Le Van Tien, said that due to the lack of money in the fund, 25 projects including two approved by the city People's Committees are waiting in the wings.
Tien said that the fund will provide money for projects that are waiting for new loans, and accord second priority to farmers who have already borrowed from it.
Since this means a long waiting time for the farmers, they are postponing their repayment, and the bank which disburses the funds had only got back VND520 million(US$31,567) over the first six months.