Underground tremors recorded recently in Bac Tra My and Nam Tra My Districts of the central province of Quang Nam Province were to be thoroughly researched, that was the content of a decision passed by the Cabinet office on Dec 3

According to decision 8577/VPCP-KTN, Vice PM Hoang Trung Hai assigned the Ministry of Science and Technology to ask relevant organizations to survey, research and prepare a report for the Prime Minister.
As per reports of the geophysicists team from the Ministry of Science and Technology released on December 1, the underground tremors were caused by Tranh River hydro-power plant activities, such as pressure of accumulated water along fault lines.
This conclusion was reached after the geophysicists finished a day's field research of 54 vulnerable spots in the area, starting Thursday.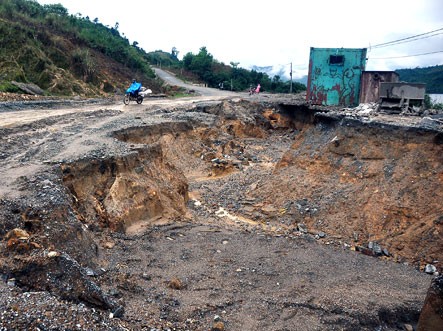 Water accumulated in the plant reservoir increases pressure on fault lines threatening lives of local residents ( Photo Phunutoday)
Tran Tuan Anh, Director of the Institute of Geological Sciences, leading the research team, said these kinds of tremors were normal in areas where hydro-power plants were located as they were operationally induced.
Local residents could still live and work normally and the tremors will reduce gradually, he said.
Water accumulated in the plant reservoir increases pressure on fault lines which then results in high pressure explosions leading to tremors, he added.
As a result, it is important to identify the most vulnerable zones for earthquakes and set up measures to evacuate residents from those areas, the research team recommended.
The provincial People's Committee has proposed to the Institute of Science and Technology to issue an official report so as to calm the residents living in close proximity of the hydro-power plant.
However, geophysicists suggested local authorities work with Vietnam Institute of Science and Technology to install observation posts in areas where tremors were recorded to give appropriate and timely warnings.
The first tremors struck the area in January this year. At least three tremors have been recorded since November 16.
The most recent tremor occurred last Sunday night, causing aftershocks within a 30km radius.
Meanwhile, on December 3, people in Tay Tra District in nearby Quang Ngai reported that after days of heavy rains, two bigger fault lines appeared in the mountainous Tra Ich village of Tra Lanh Commune.
The fault lines have led to landslides, threatening lives of 83 households with 350 thousand residents. Ho Van Lam, chairman of the People's Committee of Tra Quan village said the fault lines have become bigger and more dangerous.
The district leaders have sent a report to the People's Committee of Quang Ngai asking for assistance and support for a plan to evacuate and relocate residents to a safer area.