Viet Nam is one of the countries making notable achievements in promoting and protecting the rights of lesbian, gay, bisexual and transgender, as well as intersex people (LGBTI).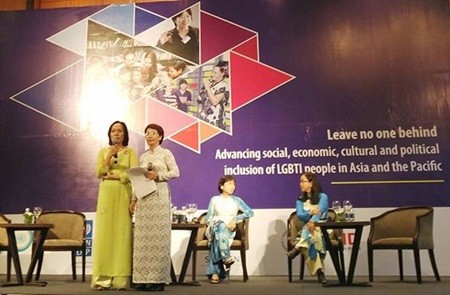 Mothers of LGBTI people share their experiences during the time of helping their children to have positive changes for themselves and be integrated in the report declaring ceremony. — Photo ics.org.vn
It is said to be among the top countries protecting LGBTI rights in Asia.
Dinh Xuan Thao, director of the Institute for Legislative Studies and member of the National Assembly, said this at a conference that released a report of the United Nations Development Programme (UNDP) today in Ha Noi.
The report, entitled "Leave no one behind: Advancing social, economic, cultural and political inclusion of LGBTI people in Asia and the Pacific", aims to transform the state of LGBTI rights and inclusion in Asia and the Pacific.
Thao said the Law on Marriage and Family for the first time lifted the ban on marriage between two people of the same sex in June 2014. A government decree issued in late 2013 revoked the administrative fine on same-sex wedding ceremonies. The needs of sexual minorities are now being considered in the process of revising laws.
Social stigma against LGBTI people had reduced substantially, he said.
The report highlights progressive social and political forces, including the increasing role of LGBTI groups in advocacy, which are propelling progress towards more widespread acceptance of LGBTI people and recognition of their needs and rights.
The main outcome of the report is an agenda for action within the context of the sustainable development goals agenda.
The report says governments should ensure LGBTI people are not excluded from employment and driven into poverty due to stigma and discrimination, and that health services are able to address the mental health needs of LGBTI people in a sensitive and evidence-based manner.
Governments should also ensure that registration of sex or gender can be amended and affirmed through a simple administrative procedure at the request of the person concerned.
They should support LGBTI people to assume public positions and leadership roles to enable them to represent the concerns of their communities, the report says.
Pratibha Mehta, United Nations Resident Coordinator in Viet Nam, said the United Nations in Viet Nam would continue to empower people of gender and sexual diversities, strengthen their capacity to advocate their rights, and stand by their side through their challenges.
Being transgender was not a reason to be denied the right to live in dignity and grow to full potential, she said.
A conservative estimate says there are at least 100 million LGBTI people living in Asia and the Pacific, according to the report.