Office 33, Viet Nam's agency in charge of legacy by the US-sprayed dioxin, has reported that high dioxin levels have been found in the blood, fat and milk of those who have been exposed to Agent Orange/dioxin.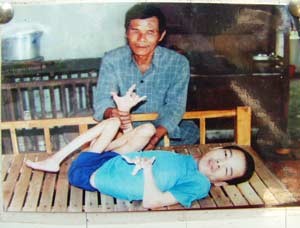 This photo shows a Vietnamese dioxin victim (Photo taken by Tuong Thuy)
The office, which oversees the overcoming of the aftermath of Agent Orange sprayed by U.S. troops during the war, added that very high dioxin levels have especially been found in people who live near areas currently having high elevated 2,3,7,8 –tetrachlorodibenzo-p-dioxin TCDD and 1,2,3,7,8 PeCDD (pentadioxin) levels.
It affirmed that the dioxin found in those people originated from Agent Orange/dioxin the U.S. troops used during the war.
According to the office, Vietnamese and Japanese scientists have jointly conducted epidemiological researches into the consequences of dioxin, under a project involving 47,000 Agent Orange/dioxin-exposed and non-exposed war veterans. Their findings showed that dioxin-related diseases recognized by the U.S. National Academy of Science, Institute of Medicine, have been found in Agent Orange/dioxin victims in Viet Nam.
The scientists noticed a higher rate of birth defects, congenital deformities and other diseases in Agent Orange victims than in non-exposed people. They also found children aged between 6 and 9 living near dioxin-contaminated areas have had lower IQs than those of their peers living in other areas.
Disease-affected structure and frequent illnesses of Vietnamese AO/dioxin victims were also higher than AO/dioxin-exposed war veterans in the U.S., New Zealand, and South Korea, the scientists said.
They pointed to the fact that Vietnamese AO/dioxin victims have been exposed to this toxic defoliant at higher levels than those in the U.S., New Zealand and South Korea due to difficult living conditions caused by the war.
Meanwhile, Vietnamese scientists conducted their own studies, detecting biological modifications in AO/dioxin-exposed people, especially regarding immune system deficiencies and changes in chromosomes and gene pools, including cancer-causing genes.