Tens of thousands of Vietnamese laborers who plan to work at South Korea are startled by the information that the South Asia nation's Ministry of Employment and Labor considers canceling the Korean language test on August 8.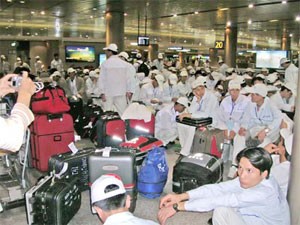 Vietnamese laborers wait for their flight at HCMC's Tan Son Nhat Airport
The move came after the number of labors who illegally stay in the host country after their labor contract expired has soared by more than 50 percent, says Nguyen Ngoc Quynh, head of the Department of Overseas Labor.
Korean employers also complain that Vietnamese labors change jobs very often, Quynh adds.
A delegation of officials from the Ministry of Labor, Invalids and Social Affairs has visited Korea to exchange ideas and finalize a project to prevent Vietnamese workers from illegally residing in the country.
Of the total 60,000 Vietnamese workers, 8,150 are residing illegally in this country, account for 14.8 percent, the news media VietNamNet Bridge quoted the Korean Ministry of Employment and Job.
This is the highest number among countries that export their workforce to the Republic of Korea, followed by China with 5,100 people, the Philippines 4,958, Indonesia 3,728, Mongolia 3,515 and Thailand 3,216, according to VietNamNet Bridge.
Middle East, meanwhile, is no longer attractive for local laborers due to low salary and high-pressured working environment.
Analysts say local laborers are now switching to Taiwan (China).
Statistics from the Department of Overseas Labor show the number of Vietnamese laborers working in the country increased twofold year-on-year in the first five months of the year.
Nearly 86,000 Vietnamese people have been employed in Taiwan so far, making 21.4 percent out of the total number of overseas employees in the country.
Of the amount, more than 7,400 are working at clinics, making 75 percent of the workforce in the care sector.
However, experts notice that Vietnamese laborers have to pay recruiters expensive costs, which range from US$3,000 – 5,000 per person.
Vietnam sent 37,700 laborers to work abroad in the first five months of this year, mainly to Taiwan, South Korea and Malaysia and Japan.