A requiem for heroic martyrs marking the War Invalids and Martyrs' Day (July 27) was held at Nam Gianh Martyrs Cemetery in Quang Binh Province's Bo Trach by the Vietnam Buddhist Sangha's Executive Committee on July 19-20.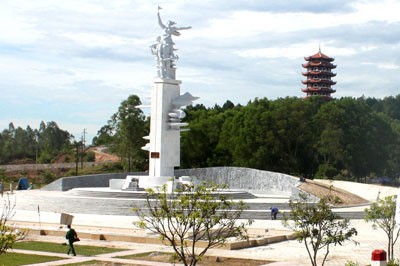 The victory monument at Dong Loc T-Junction (Photo: SGGP)
The requiem aims to honor all those who sacrificed their whole life the country. In Gianh River, 156 martyrs were killed by the US bombing on January 13, 1973, three days of a ceasefire of the aerial bombings in North Vietnam and seven days before PARIS AGREEMENTS OF 1973.
The Dong Loc T-Junction national historical relic site in Ha Tinh Province received over 1,000 visitors a day in the first seven months this year, according to deputy head of the management board Vo Cong Tru.
A ceremony marking the 46th anniversary of Dong Loc T-junction victory (July 24, 1968) will be held on July 23-24.

The event will include a requiem for war martyrs at the legendary Dong Loc T-Junction, an incense offering, camping, and sport games. A special art program will be broadcast live on VTV2 channel on July 27.

The ceremony will be co-organized by the People's Committee of Can Loc District in the central province of Ha Tinh; the provincial Department of Culture. Sport and Tourism; and Nhan Dan (People) newspaper, and the management board of the Dong Loc T-Junction national historical relic site.
A ceremony receiving certificate for a section of the Truong Son – Ho Chi Minh Trail running across Dong Loc T-junction will be organized on the occasion.

Dong Loc T-junction played a vital role in transportation of necessary ammunition from north to south during the war. It is famous for the story of 10 female martyrs who sacrificed their lives to ensure transportation of important materials on the Ho Chi Minh Trail on July 24, 1968. From 1965-1968, the US army dropped nearly 50,000 bombs and fired tens of thousands of missiles on the T-Junction in the hopes of cutting off the transport route to the southern front.