The Ministry of Agriculture and Rural Development Irrigation Construction and Investment Management Unit No.8 and No.4 on January 13 blocked the water flow from the Krong Buk Ha reservoir.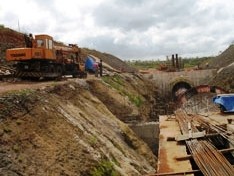 The Krong Buk Ha reservoir project. (Photo: Bao Dau Tu)
Located in the Ea Phe commune, Krong Pac District in the Central Highlands province of Dak Lak, the reservoir is one of biggest irrigation projects in the region.
With a capacity of 110 million cubic meters of water, the reservoir is able to supply water to more than 11,400 hectares of trees for the Krong Pac District and help to a part of cultivated land for the Ea Kar District.
The project will supply fresh water to over 72,000 households in the province, as well as aiming to control any floods that may be experience in lower areas of the river. It also aims to improve the water environment of the province.
The project started construction in June 2006.