With land erosion across the country over recent years becoming a serious threat to people along rivers, many expect to be given safe accommodation. However, resettlement projects for landslide-prone areas are only fulfilled on paper.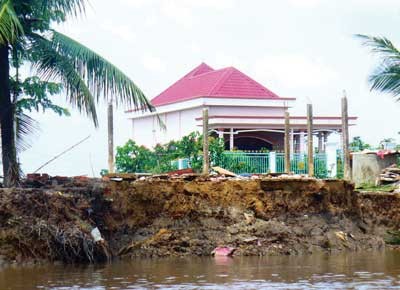 Due to fast land erosion, the villa is far from river nearly 3m (photo; SGGP)
Returning to Nhon Duc ward, Nha Be District, HCM City, where five houses were swept away due to land erosion recently, people expected to be resettled very quickly.
In response to this situation, the district's People's Committee has conducted an investigation and reported that 418 houses in the area are at risk, and should have been some years ago.
The Government has authorized such re-housing projects for the past four years, yet none of them are complete.
Where 37 people lost their houses in the last landslip, the local administration had no choice but provided a sum to rent temporary accommodation while they wait for the completion of resettlement projects.
The city's People's Committee assigned Nha Be's officials to undertake two projects for 118 households in Long Thoi Ward and 300 households in Phuoc Loc Ward.
Although two years have passed since then, the design of two projects has just been finished.
The district's People's Committee in June signed contracts for the two construction projects, yet it is a question of when the work begins and thousands of residents living in daily fear that their houses, and lives, may be swept away.

Related articles;
Lack of funds slow landslide protection
Officials struggle to halt illegal sand dredging